Engagement Quotes for Her
Show how much she means to you by choosing from our collection of engagement quotes for her. Whether it's romantic engagement quotes, funny engagement quotes or even cheesy ones, we've got you covered. It is also the perfect way to spice up an engagement toast for a friend, relatives, coworker or your fiance, as well as, writing it in engagement cards. Here you will find 1) engagement love quotes for her, 2) funny engagement quotes for her and 3) engagement anniversary quotes for fiance.
Engagement Quotes for Her
We hope you enjoy this collection of romantic engagement quotes for her.
"We have the greatest pre-nuptial agreement in the world. It's called love." – Gene Perret
"If I had a flower for every time thought of you… I could walk through my garden forever." – Alfred Tennyson
"For a long and happy marriage a man should always remember to say these three things; I'm sorry, It was all my fault, It will never happen again." – Manny Wolf
"I love you, not only for what you are, but for what I am when I am with you. I love you, not only for what you have made of yourself but for what you are making of me." – Roy Croft
"To love is nothing. To be loved is something. But to love and be loved, that's everything." – T. Tolis
"I swear I couldn't love you more than I do right now, and yet I know I will tomorrow." – Leo Christopher
"A marriage is not a noun; it's a verb. It isn't something you get. It's the way you love your partner everyday." – Barbara De Angelis
"You are my best friend, my human diary and my other half. You mean the world to me and I LOVE YOU." – Anonymous
"The great secret of successful marriage is to treat all disasters as incidents and none of the incidents as disasters." – Sir Harold George Nicolson
"And in her smile I see something more beautiful than the stars." – Across the Universe by Beth Revis
"I wish I could turn back the clock. I'd find you sooner and love you longer." – Anonymous
"Always remember the distinction between contribution and commitment. Take the matter of bacon and eggs. The chicken makes a contribution. The pig makes a commitment." – John Mack Carter
"Love seems the swiftest, but it is the slowest of all growths. No man or woman really knows what perfect love is until they have been married a quarter of a century." – Mark Twain
"The beauty of a woman must be seen from in her eyes, because that is the doorway to her heart, the place where love resides." – Audrey Hepburn
"Sometimes the heart sees what is invisible to the eye." – H. Jackson Brown, Jr.
"We may have started as individuals, but now we are as one." – Bryon Pulsifer
"When I say I love you more, I don't mean I love you more than you love me. I mean I love you more than the bad days ahead of us, I love you more than any fight we will ever have. I love you more than the distance between us, I love you more than any obstacle that could try and come between us. I love you the most." – Anonymous
"What I love most about my home is who I share it with." – Tad Carpenter
"A man without a wife is like a vase without flowers." – African Proverb
"To the world you may be one person, but to one person you are the world." – Bill Wilson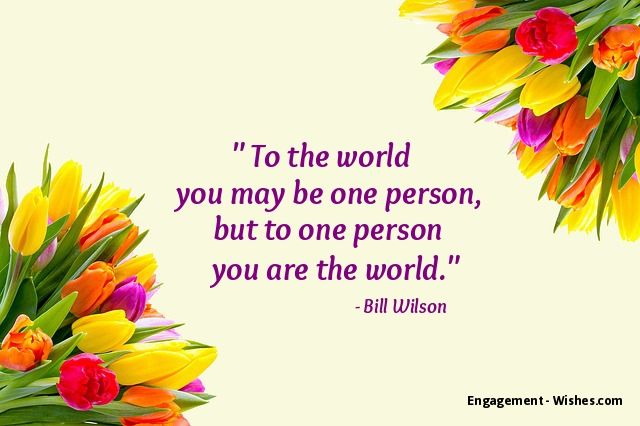 Funny Engagement Quotes for Her
If you want to make her smile at an engagement party or in an engagement card, here we have some funny ways to say engagement congratulations!
"In my house I'm the boss, my wife is just the decision maker." – Woody Allen
"I have learned that only two things are necessary to keep one's wife happy. First, let her think she's having her own way. And second, let her have it." – Lyndon B. Johnson
"A first-rate marriage is like a first-rate hotel: expensive, but worth it." – Mignon McLaughlin
"My most brilliant achievement was my ability to be able to persuade my wife to marry me." – Winston Churchill
"Love is being stupid together." – Paul Valery
"Long engagements give people the opportunity of finding out each others character before marriage, which is never advisable." – Oscar Wilde
"All you need is love. But a little chocolate now and then doesn't hurt." – Charles Schulz
"But I had promised my husband never to accept another engagement. It was not a very happy time for me." – Dinah Sheridan
Engagement Anniversary Quotes for Fiance
Let her know how much you want, need and care with these sweet and romantic engagement quotes for fiance on your engagement anniversary.
"Grow old with me! The best is yet to be." – Robert Browning
"I want you. All of you. Your flaws. Your mistakes. Your imperfections. I want you, and only you." – Anonymous
"There is a madness in loving you, a lack of reason that makes it feel so flawless." – Leo Christopher
"All of me loves all of you." – John Legend, All of Me
"It's not your perfectness that I fell in love with. It was your flaws that brought me in." – Anonymous
"When I saw you I fell in love, and you smiled because you knew." – Arrigo Boito
"You make me happier than I ever thought I could be and if you let me I will spend the rest of my life trying to make you feel the same way." – Chandler proposing to Monica on Friends
"I could watch you for a single minute and find a thousand things that I love about you." – Anonymous
Congratulations on your engagement! We hope you enjoyed our collection of romantic engagement quotes, funny engagement quotes for her and engagement anniversary quotes for her. When I looked for engagement quotes for my fiance I made sure to choose quotes that have a personal meaning, something that really speaks to me. Engagement is officially the beginning of our lives together with someone we love. Simple engagement quotes like these will help brighten up the mood and will put smiles on the faces of those we care about. May these engagement quotes for her contribute to a long, healthy and happy life for the engaged couple!
If you liked these engagement quotes for her, please share them. Each and every share helps to keep this site going!