Funny Engagement Quotes
Make them laugh with this collection of funny engagement quotes perfect for spicing things up at an engagement party, making a toast or as funny engagement quotes for cards. Some of these quotes are silly, some are sweet, while others are a bit sarcastic. Humor is helpful on so many levels, especially for the newly engaged couple. Here you will find the most hilarious 1) general funny engagement quotes, 2) funny engagement quotes for him and 3) funny engagement quotes for her.
Funny Engagement Quotes
Here are some of the best funny engagement quotes.
"Spouse: someone who'll stand by you through all the trouble you wouldn't have had if you'd stayed single." – Anonymous
"Why do married people live longer than single people? I think it's because married people make a special effort to live longer than their partner – just so they can have the last word." – Janet Periat
"Marriages don't work when one partner is happy and the other is miserable. Marriage is about both people being equally miserable." – Forget Paris
"Never go to bed mad. Stay up and fight." – Phyllis Diller
"When you see a married couple walking down the street, the one that's a few steps ahead is the one that's mad." – Helen Rowland
"When I tried to do a search for marital advise on Google, it tried to finish my sentence for me, just like my wife does." – Anonymous
"Marriage is the bond between a person who never remembers anniversaries and another who never forgets them." – Ogden Nash
"It is sometimes essential for a husband and a wife to quarrel—they get to know each other better." – Johann Wolfgang von Goethe
"A good marriage would be between a blind wife and a deaf husband." – Michel de Montaigne
"Always get married in the morning. That way if it doesn't work out, you haven't wasted the whole day." – Mickey Rooney
"For marriage to be a success, every woman and every man should have her and his own bathroom. The end." – Catherine Zeta-Jones
"Marriage: A legal or religious ceremony by which two persons of the opposite sex solemnly agree to harass and spy on each other for ninety-nine years, or until death do them join." – Elbert Hubbard
"A good marriage is like a casserole: only those responsible for it really know what goes in it." – Anonymous
"A man doesn't know what happiness is until he's married. By then it's too late." – The Joker is Wild
"The bonds of matrimony are like any other bonds – they mature slowly." – Peter De Vries
"Insurance is like marriage. You pay, pay, pay, and you never get anything back." – Al Bundy
"Marriage is nature's way of ensuring that a woman picks up some mothering experience before she has her first child." – Robert Brault
Ever since it started snowing my husband is standing in front of the window and watching. If the snow gets much worse, I might let him inside the house." – Anonymous
"Many people spend more time in planning the wedding than they do in planning the marriage." – Zig Ziglar
"The most important four words for a successful marriage: 'I'll do the dishes." – Anonymous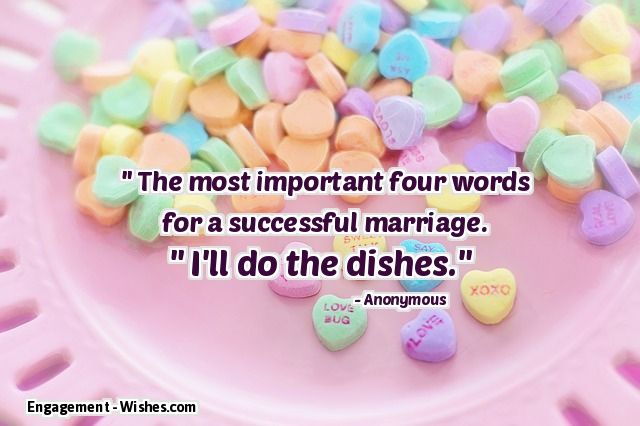 Funny Engagement Quotes for Him
Make your engagement celebration full of  smiling faces and chuckles with these funny engagement quotes for him! Also perfect as funny engagement quotes for cards.
"Never try to impress a woman, because if you do she'll expect you to keep up the standard for the rest of your life." – W. C. Fields
"If you are ever with a girl that is too good for you – marry her." – Valentine's Day
If you want your wife to listen to you, then talk to another woman: she will be all ears." – Sigmund Freud
"Don't forget your wife's name. That will mess up the love." – Erin, age 8
"My wife says I never listen to her. At least I think that's what she said." – Anonymous
"You know… There is a name for people who are always wrong about everything all the time… Husband!!!" – Bill Maher
~ A man likes his wife to be just clever enough to appreciate his cleverness, and just stupid enough to admire it." – Israel Zangwill
"The best way to remember your wife's birthday is to forget it once." – H.V. Prochnow
Funny Engagement Quotes for Her
She deserves only the best! The engagement ring, a party, gifts and your sense of humor. Sweep her off of her feet once again with one of these funny engagement quotes for her. The best of engagement quotes funny here you will find, to make sure that she is forever on your mind.
"A good wife always forgives her husband when she's wrong." – Milton Berle
"When a man brings his wife flowers for no reason, there's a reason." – Molly McGee
"Marrying a man is like buying something you've been admiring for a long time in a shop window. You may love it when you get it home, but it doesn't always go with everything else in the house." – Jean Kerr
"Husbands are like wine, they take a long time to mature." – Letters to Juliet
"Husbands are like fires, they go out when unattended." – Zsa Zsa Gabor
"I never mind my wife having the last word. In fact, I'm delighted when she gets to it." – Walter Matthau
"A husband's last words should always be, OK buy it." – Anonymous
"I haven't spoken to my wife in years. I didn't want to interrupt her." – Rodney Dangerfield
If you liked these funny engagement quotes, please share them. Each and every share helps to keep this site going!