Engagement Quotes for Him
Let your fiance know how much you love, need and want him with our collection of engagement quotes for him. Or if it is the engagement of a friend, relative or coworker these engagement quotes for him are the perfect thing to add to a speech, wedding toast and to write in engagement cards. We hope that these quotes will bring you and your loved ones joy. Here you will find 1) engagement love quotes for him, 2) funny engagement quotes for him, 3) engagement anniversary quotes for fiance.
Engagement Quotes for Him
Here you will find a general collection of engagement quotes for fiances.
"You rose into my life like a promised sunrise, brightening my days with the light in your eyes. I've never been so strong. Now I'm where I belong." – Maya Angelou
"I never loved you any more than I do, right this second. And I'll never love you any less than I do, right this second." – Kami Garcia
"Sometimes I can't see myself when I'm with you. I can only just see you." – Jodi Lynn Anderson
"I saw that you were perfect, and so I loved you. Then I saw that you were not perfect and I loved you even more." – Angelita Lim
"You don't love someone because they're perfect, you love them in spite of the fact that they're not." – Jodi Picoult
"I love you not because of anything you have, but because of something that I feel when I'm near you." – Anonymous
"I am catastrophically in love with you." – Clockwork Princess by Cassandra Clare
"On her husband: He's the funniest, smartest person I know. It doesn't mean he doesn't bug me and I'm sure I bug him sometimes." – Sarah Jessica Parker
"No matter where I went, I always knew my way back to you. You are my compass star." – For Darkness Shows the Stars by Diana Peterfreund
"I don't want the heavens or the shooting stars. I don't want gemstones or gold. I have those things already. I want… a steady hand. A kind soul." – Shana Abe
"Love has nothing to do with what you are expecting to get–only with what you are expecting to give–which is everything." – Katharine Hepburn
"I'm much more me when I'm with you." – Anonymous
"Romance is the glamour which turns the dust of everyday life into a golden haze." – Elinor Glyn
"I would rather spend one lifetime with you, than face all the ages of this world alone." – Lord of The Rings
"Soul mates. It's extremely rare, but it exists. It's sort of like twin souls tuned into each other." – What Dreams May Come
"All, everything that I understand, I only understand because I love." – Leo Tolstoy
"If you press me to say why I loved him, I can say no more than because he was he, and I was I." – Michel de Montaigne
"I wanted to tell you that wherever I am, whatever happens, I'll always think of you, and the time we spent together, as my happiest time. I'd do it all over again, if I had the choice. No regrets." – Boundless by Cynthia Hand
"No matter what has happened. No matter what you've done. No matter what you will do. I will always love you. I swear it." – C.J. Redwine
"For you see, each day I love you more, today more than yesterday and less than tomorrow." – Rosemonde Gerard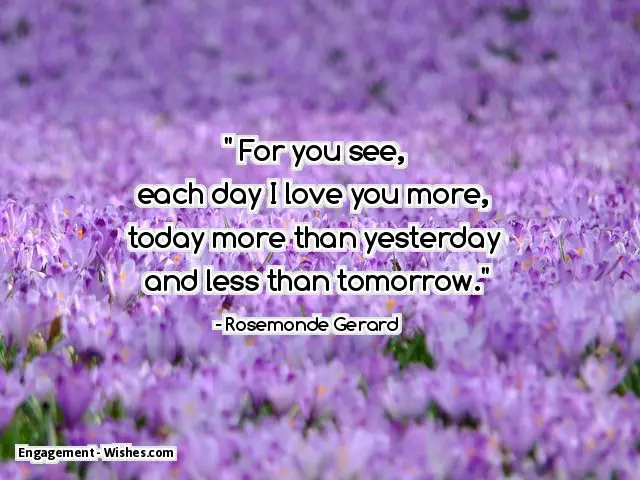 Funny Engagement Quotes for Him
If you want to add a little zest to an engagement party speech or in an engagement card, here we have some funny ways to say congratulations on your engagement!
"My wife tells me that if I ever decide to leave, she is coming with me." – Jon BonJovi
"I think men who have a pierced ear are better prepared for marriage. They've experienced pain and bought jewelry." – Rita Rudner
"A kiss is a lovely trick designed by nature to stop speech when words become superfluous." – Ingrid Bergman
"My instinct is to keep my engagement ring After all, I wouldn't like to see it on the finger of a cheeky girl." – Sian Lloyd
"Three rings of marriage are the engagement ring, the wedding ring, and the suffering." – Anonymous
"I have an engagement ring, which is my favorite accessory." – Jules Asner
"When you marry… make sure your lives are different enough so that you have something to tell each other in the evening." – Brett Daniels
"To keep your marriage brimming, With love in the loving cup, Whenever you're wrong, admit it; Whenever you're right, shut up." – Ogden Nash
Engagement Anniversary Quotes for Fiance
These engagement congratulations anniversary quotes for fiance are a perfect way to let him know how much you care for him.
"You may hold my hand for a while, but you hold my heart forever." – Anonymous
"A successful marriage requires falling in love many times, always with the same person." – Mignon McLaughlin
"The secret of a happy marriage is finding the right person. You know they're right if you love to be with them all the time." – Julia Child
"This relationship is the vessel wherein is nurtured the life force of both individuals, whereby they create the future of the human race in body and thought." – L.Ron Hubbard
"I look at you and see the rest of my life in front of my eyes." – Anonymous
"The best thing to hold onto in life is each other." – Audrey Hepburn
"When angry, count to a hundred." – Mark Twain
"All commands from your lips are sweet, I say, and now have you not said the sweetest of all? Marry you…!" – Byron Caldwell Smith, letter to Kate Stephens
If you liked these engagement quotes for him, please share them. Each and every share helps to keep this site going!