Engagement Quotes
An engagement is one of the most important events in life. And if you are looking for engagement quotes to put in an engagement card, for an engagement speech or for a toast, you're in the right place. Even though some of these engagement quotes are centuries old they can help inspire a couple on their special day and will add some interesting zest to what you're writing or saying. Sometimes the exact words that we're looking for have already been spoken by someone else and perfectly express what we want to say, which is why we have created this collection of happy engagement quotes. Here you will find 1) wedding engagement quotes, 2) engagement quotes for him, 3) engagement quotes for her, 4) engagement anniversary quotes and 5) funny engagement quotes.
Wedding Engagement Quotes
Here you will find a general selection of quotes for engagement wishes to send to your friends, family or partner.
"The highest happiness on earth is marriage." – William Lyon Phelps
"Love doesn't make the world go 'round. Love is what makes the ride worthwhile." – Franklin P. Jones
"You don't marry someone you can live with – you marry the person you cannot live without." – Anonymous
"Anyone can catch your eye, but it takes someone special to catch your heart."- Anomynous
"If there is such a thing as a good marriage, it is because it resembles friendship rather than love." – Michel de Montaigne
"If you have respect and consideration for one another, you'll make it." – Mary Durso
"Gravitation cannot be held responsible for people falling in love." – Albert Einstein
"Find the person who will love you because of your differences and not in spite of them and you have found a lover for life." – Leo Buscaglia
"The best and most beautiful things in this world cannot be seen or even heard, but must be felt with the heart." – Helen Keller
"Ultimately the bond of all companionship, whether in marriage or in friendship, is conversation." – Oscar Wilde
"Love is just a word until someone comes along and gives it meaning. Your love paints a beautiful picture of what love really means." – Anomymous
"The meeting of two personalities is like the contact of two chemical substances; if there is any reaction, both are transformed." – Carl Jung
"Between a man and his wife nothing ought to rule but love." – William Penn
"Trip over love, you can get up. Fall in love and you fall forever." – Anonymous
"A happy marriage is the union of two good forgivers." – Ruth Bell Graham
"What greater thing is there for human souls than to feel that they are joined for life – to be with each other in silent unspeakable memories." – George Eliot
"What a happy and holy fashion it is that those who love one another should rest on the same pillow." – Nathaniel Hawthorne
"The success of love is in the loving, it is not in the result of loving." – Mother Teresa
"To keep the fire burning brightly there's one easy rule: Keep the two logs together, near enough to keep each other warm and far enough apart – about a finger's breadth- for breathing room. Good fire, good marriage, same rule." – Marnie Reed Crowel
"Engagement marks the end of a whirlwind romance and beginning of an eternal love story." – Anonymous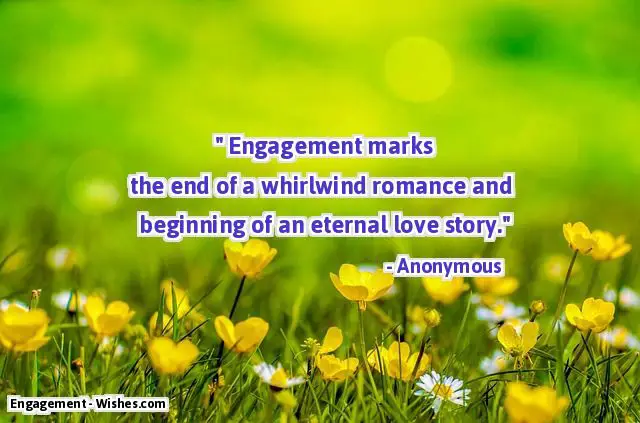 Engagement Quotes for Him
Are you looking for quotes on engagement to send to him? If so, we hope you find the perfect one here.
"For it was not into my ear you whispered, but into my heart." – Judy Garland
"Marriage is a mosaic you build with your spouse. Millions of tiny moments that create your love story." – Jennifer Smith
"I choose you. And I'll choose you over and over and over. Without pause, without a doubt, in a heartbeat. I'll keep choosing you" – Anonymous
"Sexiness wears thin after a while and beauty fades, but to be married to a man who makes you laugh every day, ah, now that's a real treat." – Joanne Woodward
"In the arithmetic of love, one plus one equals everything, and two minus one equals nothing." – Mignon McLaughlin
"I realized I was thinking of you, and I began to wonder how long you'd been on my mind. Then it occurred to me: Since I met you, you've never left." – Anonymous
"You are the butter to my bread, and the breath to my life." – Julia Child
"When you realize you want to spend the rest of your life with somebody, you want the rest of your life to start as soon as possible." – Nora Ephron
"The real act of marriage takes place in the heart, not in the ballroom or church or synagogue. It's a choice you make – not just on your wedding day, but over and over again – and that choice is reflected in the way you treat your husband or wife." – Barbara de Angelis
"I dreamed of a wedding of elaborate elegance, a church filled with family and friends. I asked him what kind of a wedding he wished for, he said one that would make me his wife." – Anonymous
Engagement Quotes for Her
Once you've gotten engagement ring quotes, it's time to get some engagement quotes for her to go along with that ring!
"Happy is the man who finds a true friend, and far happier is he who finds that true friend in his wife." – Franz Schubert
"If I know what love is, it is because of you." – Hermann Hesse
"A man is already halfway in love with any woman who listens to him." – Brendan Francis
"My heart to you is given: oh, do give yours to me;We'll lock them up together, and throw away the key." – Frederick Saunders
"You have bewitched me body and soul, and I love, I love, I LOVE YOU." – Pride & Prejudice
"You come to love not by finding the perfect person, but by seeing an imperfect person perfectly." – Sam Keen
"You don't love someone for their looks, or their clothes, or for their fancy car, but because they sing a song only you can hear." – Oscar Wilde
"If you live to be a hundred, I want to live to be a hundred minus one day so I never have to live without you." – A. A. Milne
"Thinking of you keeps me awake. Dreaming of you keeps me asleep. Being with you keeps me alive." – Anonymous
"A woman knows the face of the man she loves as a sailor knows the open sea." – Honore de Balzac
Engagement Anniversary Quotes
Here is a collection of quotes about engagement anniversaries.
"Love at first sight is easy to understand; it's when two people have been looking at each other for a lifetime that it becomes a miracle." – Sam Levenson
"What counts in making a happy marriage is not so much how compatible you are, but how you deal with incompatibility." – George Levinger
"If you have respect and consideration for one another, you'll make it.' – Mary Durso
"Happy marriages begin when we marry the ones we love, and they blossom when we love the ones we marry." – Tom Mullen
"I would like to have engraved inside every wedding band: Be kind to one another. This is the Golden Rule of marriage and the secret of making love last through the years." – Randolph Ray
"Love one another and you will be happy. It's as simple and as difficult as that." – Micheal Leunig
"Straighten your problems out before you go to bed. That way you will wake up smiling." – Louis Fromm
"There is nothing nobler or more admirable than when two people who see eye to eye keep house as man and wife, confounding their enemies and delighting their friends." – Homer
Funny Engagement Quotes
We hope you find these engagement quotes funny and that they brighten your day and help you to share a smile.
"It's so great to find that one special person you want to annoy for the rest of you life." – Rita Rudner
"Before you marry a person, you should first make them use a computer with slow Internet to see who they really are." – Will Ferrell
"The best way to get most husbands to do something is to suggest that perhaps they're too old to do it." – Shirley MacLaine
"A husband should tell his wife everything that he is sure she will find out, and before anyone else does." – Thomas Robert Dewar
"My husband and I have never considered divorce… murder sometimes, but never divorce." – Joyce Brothers
"The rule goes like this: If you kiss someone, then you should marry them and have kids with them. It's the right thing to do." – Howard, age 8
"Marriage is an alliance entered into by a man who can't sleep with the window shut, and a woman who can't sleep with the window open." – George Bernard Shaw
"My advice to you is to get married. If you find a good wife, you'll be happy; if not, you'll become a philosopher." – Socrates
If you liked these happy engagement quotes, please share them. Each and every share helps to keep this site going!