Funny Engagement Wishes
If you want to give your fiance, sister, brother, friends or relatives funny engagement wishes that are memorable and unforgettable you are in the right place. We are here to help you to find the perfect funny engagement messages to fit your purpose. So help brighten the newly-engaged couple's day and put a smile on their faces, spread the laughter and joy. Here you will find 1) funny engagement wishes (engagement parties are sometimes stuffy and you might want to liven things up with a toast or by saying funny engagement wishes to the couple), 2) funny engagement wishes for a friend and 3) funny engagement card messages (when you want to write a humorous wish in an engagement card for the newly engaged couple).
Funny Engagement Wishes
This is a general collection of engagement funny wishes that you can use for a toast at an engagement party or to simply wish a happy engagement.
Congratulations on finding the one person you want to annoy for the rest of your life!
Don't rush things from here. A long engagement is a great way to delay the inevitable drudgery of an actual marriage.
Never again laugh at your fiance's choices, because you are one of them!
Happy engagement wishes we all send to you, now all we wanna know is when's the baby due?
Marriage is the world's oldest workshop: the husband works while the wife shops!
Engagement advice: make sure the ring is really tight so it can never be taken off!
I can't wait to get drunk on expensive champagne at your wedding. Happy engagement!
To him: you are about to undergo a procedure in which you will have your spine removed, but don't worry, at least you'll get some great wedding gifts.
Funny Engagement Wishes for a Friend
Here you will find some engagement wishes funny to share with your friends.
Engagement is the first of 3 rings: the engagement ring, the wedding ring and the suffering!
I must say, I am so proud of you for getting engaged out of love. I always figured you'd get knocked up first!
I am so happy for you and your new ring! And your fiance seems ok too.
Congratulations on your engagement! Now, to celebrate, I'll be sending you the bill for the bridal nails I'll be getting?
Marriage is like a deck of cards. At the start, the only thing you need is two hearts and a diamond. But after a while you start hunting for a club and a spade.
Congratulations on your catch. Now don't drop them!
You two are a match made in heaven, just like thunder and lightning!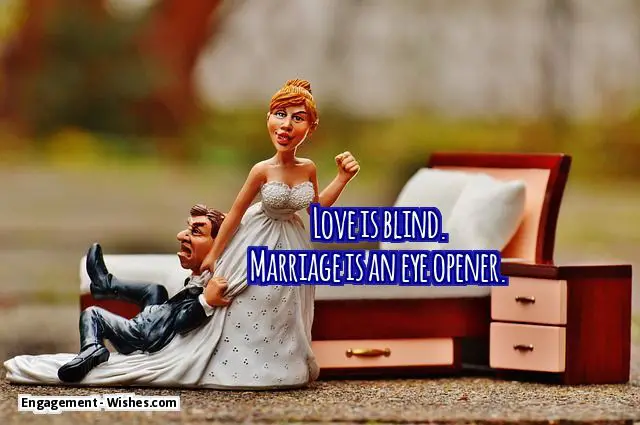 Funny Engagement Card Messages
If you are not sure what to write in an engagement card funny messages might be the way to go!
Love is blind. Marriage is an eye-opener.
Congratulations on finding someone who you feel comfortable enough to fart in front of.
Enjoy this wonderful time of excitement and romance because soon the pain of planning a wedding is going to smack you in the face.
Marriage is a relationship in which one person is always right, and the other is the husband.
Women marry men hoping they will change. Men marry women hoping they will not.
Don't do it…it's a trap!
We hope you got a chuckle out of these and enjoyed our collection of funny wishes for engagement. Aside from engagement pictures and videos, the importance and funny side of the celebration can be captured through funny engagement wishes. So we have come up with our best picks for funny engagement quotes wishes for inspiration for your speeches, wishes, toasts and engagement cards for the newly-engaged couple. Spread humor and laughter on this special day and enjoy!
If you liked these funny engagement wishes, please share them. Each and every share helps to keep this site going!